About Tristan
Domestic Electrician; an Electrical Contractor based on Dartmoor, in Moretonhampstead, Devon
I am a NAPIT Approved Electrician, with an intimate knowledge of Dartmoor and the surrounding area. I am qualified and fully conversant with the latest electrical rules and regulations.
I am continually updating my knowledge to ensure that I can offer you the most proficient service possible.
Although I specialise in domestic works, I am also able to offer my services to the multitude of small commercial and "cottage-industry" facilities that are so typical of our rural Devon life.
Above all, your work is important to me and it receives my personal attention. I understand the value of your home to you and I pride myself in working carefully and diligently. As a homeowner myself, I appreciate how disruptive electrical work can be. I will endeavour to carry out all work to cause you the least inconvenience and will leave your property in a clean and tidy condition.
I have a wife – so I know how important it is to be clean and tidy and confine my work to as small an area as possible!
NAPIT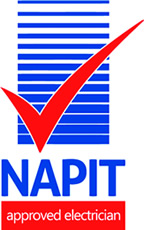 Many of you may be under the impression that all electricians and electrical work are regulated by the NICEIC. This is a myth and there are now 18 regulatory bodies for electricians. The NICEIC does not write or publish the electrical rules and regulations either.
NAPIT is a well respected organisation committed to consumer safety in the Domestic, Commercial and Industrial sectors.
NAPIT was formed in 1992 as the National Association for Professional Inspectors and Testers, with the aim of setting standards for industry. Since then NAPIT's role has evolved and expanded to be one of the fastest growing Government Approved register holders for Part P Registered Electricians while continuing to serve the needs of those carrying out equipment testing and electrical installation and testing in commercial and industrial sectors.
NAPIT also supports the objectives of the Electrical Safety Council which is an independent non-profit-making organisation, registered as a charity; set up to protect the safety of consumers. Supported by all sectors of the electrical industry as well as local and central government, it deals with all electrical safety matters on behalf of consumers, dedicated to improving standards and promoting best practice.
If you want to find out more, click this link.
As a NAPIT Approved Electrician, I am able to offer insurance-backed guarantees for my work and all of the necessary documents that you will need to prove that your electrical installation is safe and complies with the Building Regulations (you may have heard this referred to as "Part P compliant").
TrustMark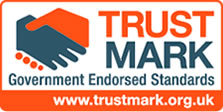 TrustMark is a Government endorsed initiative to give consumers confidence that they are dealing with professional tradesmen. As a NAPIT Approved Electrician I am recognised as a reliable professional by TrustMark and the quality of my work is guaranteed.
The TrustMark Website has the largest database of accredited tradesmen in the country and provides a route for householders to find reputable tradesmen 24/7.
If you want to find out more about TrustMark, please click here.
Operating Area
Based in Moretonhampstead, I am well-placed to serve Dartmoor and the surrounding areas of Devon. However, projects outside of this area will always be considered and we will be honest with you if I cannot provide you with a quality service. If I cannot help, then I will often be able to suggest alternatives for you.
Partnerships
As a local Devon electrical contractor, I maintain a number of informal partnerships with other tradesmen who can assist me in all of your building needs and ensure that projects can be well co-ordinated and quality maintained throughout.